Offsite Research Assistant — Migrant Worker Recruitment Project (Philippines)
Philippines (Philippines)
Organization: UNU - United Nations University
Location: Philippines (Philippines)
Grade: Consultant - Contractors Agreement - Consultancy
Occupational Groups:

Scientist and Researcher
Project and Programme Management
Migration
Administrative support

Closing Date: 2020-04-06
Click "SAVE JOB" to save this job description for later.
Sign up for free to be able to save this job for later.
United Nations University
The United Nations University (UNU) is an international community of scholars engaged in research, postgraduate training and dissemination of knowledge in furtherance of the purposes and principles of the United Nations, its Peoples and Member States. It serves as a think tank for the United Nations system, contributes to capacity building—particularly in developing countries—as well as a platform for new and creative ideas and dialogue. In addition to the UNU Headquarters located in Tokyo, UNU has established fifteen institutes and programmes worldwide. For more information please visit https://unu.edu/.
United Nations University Institute in Macau
United Nations University Institute in Macau is a research institute at the intersections of information and communication technology (ICT) and international development. The Institute conducts policy-relevant research and generates solutions, addressing key issues expressed in the UN 2030 Agenda for Sustainable Development through high-impact innovations and frontier technologies. Through its research, UNU Institute in Macau encourages data-driven and evidence-based actions and policies to achieve the Sustainable Development Goals. One of the institute's missions is to nurture the next generation of interdisciplinary computing, information and social scientists, and engineers to be thought leaders in the field of ICT for development. To this end, the institute seeks to build a team of experts to help deliver the institute's mission and work plan.
Migrant Worker Recruitment Project
The United Nations University, Institute in Macau has been commissioned by the International Labour Organisation (ILO) under the FAIR project(1) to undertake a research study on migrant workers use of technology during recruitment.
The aim of the research is to better understand and harness opportunities to use digital technology in facilitating/ensuring fair recruitment practices, in view of informing a potential pilot activity working with technology in recruitment processes. The research will also look at how workers use the ITUC's MRA platform(2), so as to inform the roll out and sustainability strategy of this online tool. The research takes a migration corridor approach in keeping with the FAIR project, and include migration from Nepal, Sri Lanka, and The Philippines to Malaysia and Hong Kong
Responsibilities
Under the guidance and direct supervision of the project lead, the successful candidate, who will be based offsite in the designated location shall be entrusted with the following tasks:
translate survey instruments into Filipino
act as enumerator for 58 surveys for migrant workers in the Philippines.
lead 3 focus group discussions as well as translate and transcribe discussions into English
Undertake at least 5 interviews as well as translate and transcribe discussions into English
All of these tasks are required to be completed within a one-month period, from mid-April to mid-May.
More details of each of these key tasks are included below.
Surveys
The research assistant will be required to act as an enumerator for surveys. The table below provides details of quota for respondents, by gender and destination country.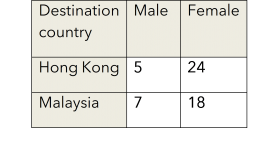 The following inclusion and exclusion criteria apply for all respondents:
Country of citizenship: Philippines
Target destination country for labour migration: Hong Kong or Malaysia
Access to at least one of the following ICTs: personal computer or laptop, mobile phone, tablet, internet
All surveys will be undertaken electronically using SurveyMonkey predominantly or paper-based where relevant.
2. Focus groups
The research assistant will conduct 3 focus group discussions, lasting not more than 60 minutes each     and consisting of 3-5 participants per group. Guiding questions will be provided to the successful             applicant. Based on the nature and the type of workers, corridor specific demographics of migrant           workers can be found below.
Philippines to Hong Kong: all female in household services / domestic work
Philippines to Malaysia: all female in household services / domestic work
The research assistant will be required to translate and transcribe all focus group recordings into English as part of this package.
3. Interviews
The Offsite Research Assistant will conduct at least 5 key informant interviews, lasting not more than       60 minutes each. Guiding questions as well as contact details of informants will be provided to the           successful candidate.
The Offsite Research Assistant will be required to translate and transcribe all interview recordings into English as part of this package.
Required qualifications and experience
Required qualifications and experience include:
ability to work and with eligible work authorisation in the designated location (i.e. Manila, The Philippines)
at least a Bachelor's degree in a relevant area (migration studies, social sciences, economics)
at least two years of work experience as a researcher (including field work)
experience moderating focus groups / leading interviews
fluency in Filipino and English
good communication skills (both written and speaking)
UNU is committed to diversity and inclusion within its workforce, and encourages all candidates, irrespective of gender, nationality, religious and ethnic backgrounds, including persons living with disabilities to apply and become part of the organisation.
UNU has a zero-tolerance policy on conduct that is incompatible with the aims and objectives of the United Nations and UNU, including sexual exploitation and abuse, sexual harassment, abuse of authority and discrimination.
Remuneration
Remuneration will be USD$2,500 upon completion of the project deliverables as listed above, within 28 days of package commencement.
UN income is not subject to taxes in Macau. The contractor will be responsible for paying local taxes and other fiscal obligations.
This is a locally recruited post; no relocation allowances apply. The successful candidate will be employed as an individual contractor and will not hold international civil servant status, nor is he/she a "staff member" as defined in the United Nations Staff Rules and Regulations.
The Institute accepts no responsibility for the medical and life insurance or costs arising from accidents and illness incurred during the contract period.
Duration of contract
1 month.
Starting date
15 April 2020.
Interested applicants should submit their applications by email to apply_cs@unu.edu by 6 April 2020, and must include the following:
a cover letter setting out how the qualifications and experience match the requirements of the position
a curriculum vitae
a completed and signed UNU Personal History (P.11) form; please avoid using similar forms provided by other United Nations organisations
the subject line "Application for Offsite Research Assistant – The Philippines (Ref No: 2020/UNU/MACAU/CTC/ORA/33)"
Please note that applications received after the closing date will not be considered and only short-listed candidates will be offered the opportunity to interview for this position.
Vacancy Announcement: UNU in Macau Offsite Research Assistant (Philippines Based) (207.6 KB PDF)
By email : apply_macau@unu.edu