The WFP is the food-assistance branch of the United Nations. It is the world's largest humanitarian organization focused on hunger and food security, and the largest provider of school meals. Through its triple role as a technical advisor, service provider and complementary actor, WFP is supporting these efforts, as it works with governments to extend the coverage, comprehensiveness, adequacy and quality of national social protection systems, with the aim to ensure that all people have access, throughout their lives, to strengthen national social protection systems that safeguard and foster their ability to meet their food security, nutrition and associated essential needs, and to reduce and address the risks and shocks they face.
Candidates who qualify for the Policy Social Protection Officer OR the Resilience, Food Assistance for Assets, Livelihoods FIT Pools, will receive priority status to be considered for vacant Fixed Term positions anywhere in the world and consequently to commence your global journey in the humanitarian world, often at the forefront of world affairs. Applications close on 14 February. Find more information below.
---
More about the FIT Pools and the live vacancies
Programme Policy Officers - Resilience, Food Assistance for Assets and Livelihoods FIT Pool - These roles are found in Headquarters (HQ), Regional Bureaux (RBs) and Country Offices (COs). Such environments can be characterised by challenging political, operational or security situations, access restrictions, large and varied programme portfolios requiring a range of approaches, or cutting edge, globally reaching, high profile and strategically important policies and programmes requiring relevant technical, leadership, coordination and management skills.
Job Purpose - To support the design and manage the development, implementation and oversight of resilience, food for assets and livelihoods programs that effectively meet food assistance needs in complex contexts. To develop and provide programmatic and technical guidance on livelihoods, assets creation and integrated resilience as well as to contribute to technical advice and oversight on the development and implementation of relatively complex strategies related to resilience building


PROGRAMME POLICY OFFICER P3 RESILIENCE, FOOD ASSISTANCE FOR ASSETS AND LIVELIHOODS - Apply Here
PROGRAMME POLICY OFFICERS P4 RESILIENCE, FOOD ASSISTANCE FOR ASSETS AND LIVELIHOODS - Apply Here



---
Social Protection Officer FIT Pool - Social protection is an increasingly prominent strategy for governments to reduce extreme poverty, hunger, and inequalities and promote access to essential needs. Virtually every country in the world has at least one social protection scheme in place, and 3.5 billion people are already covered by some type of social protection benefits. 1.5% of GDP is spent on safety nets in low- and middle-income countries. 45% of the world's poor are not yet covered by a safety net. Over US$2.9 trillion have been devoted to social protection responses to COVID-19 in 2021
Job Purpose - To respond to the growing demand for WFP to work with governments and other partners to support national social protection. National social protection systems reach billions of people across the globe. Investing in strengthening those systems can improve outcomes among the several hundred million hungry and malnourished—and those at risk—whom we don't reach directly. Helping governments to scale up and enhance social protection is a key pathway towards a zero-hunger world.
PROGRAMME POLICY SOCIAL PROTECTION OFFICER P3 - Apply Here
If you apply to a WFP FIT pool please indicate that you found the vacancies on Impactpool.
Career Coach Michele has successfully made it in the WFP FIT pool and shares his complete experience with us. From how long it took, the different stages and what to expect, to the practical strategies he used to prepare that you can use too.
Watch the Video of WFP Country Director in Zambia - about the importance of Social Protection
WFP is looking for candidates of the highest integrity and professionalism who share WFP's humanitarian principles.
WFP select its FIT Pool members on a competitive basis and are committed to promoting diversity and gender balance.
For more information: https://www.wfp.org/fit-pool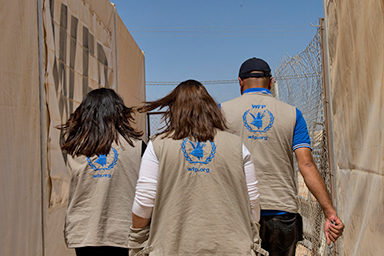 Browse all WFP jobs